If you, like us are becoming more and more aware of buying organic and cruelty free and natural based cosmetic products then you would love our beauty themed blog review post.  In this post, we introduce some products from Stara Mydlarnia which is made in Poland. These gift sets are such a fabulous idea for family or friends celebrating birthdays or a special occassion.  These lovely products were sent to us by True Obsession which is local to Newcastle-Under-Lyme in Staffordshire.   These products have been made from natural ingredients and are all hand made. Do read on to find out what we thought about it, there are three gift sets in total, the first is an Algea Bath Oil Gift Set by Stara Mydlarnia, the second  a Vitamic C themed Gift Set by Eco-Receptura and finally the last set was also an Eco-Receptura Gift Set, with strawberry and raspberry fruit themed bath and oil set.
First Gift Set – Algea Bath Oil Gift Set by Stara Mydlarnia
We were sent this beautifully packaged box which consisted of 2 items, a stylish glass bottle of Algea Bath Oil which costs £9 and the second an 95g Olio Babee Bath Bomb Tarta Tain with plums cost £3.50.  The Bath Oil is said to be anti-ageing and moisturizing and came is a stylish and unique looking bottle which will sit on anyone's bath tub nicely. The scent of the bath oil was totally relaxing with the fragrance being not overpowering at all. The bath oil is made with algae, rosemary extract, sweet almond oil, Vitamin E and Soybean Oil.  I filled out bathtub with warm water around 30+ degrees and added a few drops of this. It made my skin feel smooth and silky afterwards. This product is recomended for all skin types, children and even pregnant woman as it prevents stretch marks as well as mature woman as it delays the appearance of wrinkles. I totally love bath bombs hence the Olio Babee Bath was no different, the lovely purple tone of the water was totally relaxing and calming as well especially after a stressful day with the kids.  The handcrafted bath bomb was made with natural ingredients such as grape seed oil, shea butter, argan oil also known as the "Gold of Morocco", sweet almond oil, extract of prickly plum.  It was my time alone with a nicely lit candle and chilled drink at hand.
Second Gift Set – Vitamin C by Stara Mydlarnia 
The elegant Vitamin C Gift Set, consisted of a lemon juice bath and shower, nourishing and whitening vitamin C serum and a beautiful lemon scented glycerin spiral soap came in a stylish decorated cardboard box.  The 300ml Eco Receptura Vitamin C bath and shower gel smelled completely divine! At the start I felt skeptical as the soap had a almost a thick texture to it but this almost disappeared into my skin once I lathered it and there was no bubbles at all …I am guessing because it is based on a milk vegetable washing substance.  At the end of my shower, I totally felt fresh and kept smelling myself as I totally loved it! The bath was also very delicate on my skin and perfect for anyone who has dry skin.The bath shower does not contain any vaseline, paraffin oils, silicone or ethanolamines.  The 50ml Eco Receptura Vitamin C Serum came in a lovely spray style bottle and is based on natural ingredients such as shea butter, extracts of lemon, green tea and goji.  I applied this onto my clean skin and gently massaged it, the smell was amazing and within 60 seconds the creamy serum was absorbed by my skin and there was no oily residue left on my fingers which I thought was fabulous. I felt my skin revitalised and this serum is also anti-ageing for those wanting to stay and look young.  The 100g lemon spiral citrus scented soap was lovely and sits perfectly on my soap bowl.  I think this would be a fabulous gift set to anyone who loves anything lemon!  The whole set can be purchased for £19 or each item can be purchased individually. The Serum costs £14 while the bath & shower gel costs £7 and the soap costs £3.50. As you can see its cheaper to buy the gift set.
Third Gift Set – Strawberry & Raspberry Themed Set by Stara Mydlarnia
Our last gift set was beautifully packaged in a clear box and it contained a 300ml bottle of 2 in 1 anti-ageing Eco Receptura Strawberry Bath Oil & Bath Gel, a heart shaped soap and a 250ml Eco Receptura Raspberry Massage Oil.  The Bath Oil & Bath Gel is made from aloe vera extract, argan oil, vitamin E & B5 and avocado oil and the liquid was separated in the bottle in two shades (which was so unique).  I gave it a nice shake which mixed it up and turned it into a lovely watermellon colour. Using it in the bath, it gave the whole room a yummy and fruity smell and this definitely relaxed me. The aloe vera extract also made my skin feel so smooth and this product is said to stimulate cells to regenerate skin and accelerate wound healing. To add to the list of goodness, this product does not contain any animal ingredients, paraben, peg or silicon at all. Right after my bath, I used the massage oil which gave my skin a silky finish! The Massage Oil is made from almond oil, vitamin E and soybean oil, it did have a subtle smell but I preferred the strawberry smell to the raspberry scent.  Its said that using the massage oil will help with firming and regenerating skin in the long run. So this is a great product for anyone looking for an anti-cellulite oil.  The beautiful heart shaped soap costs £1 and is usually packed as a gift item in the store and this just made the gift box that much more special and unique.  The 2 in 1 bath oil & bath gel can be purchased for £7 here while the Raspberry Massage Oil costs £6 but is currently out of stock (do check their website for other similar products such as the Sandalwood & Tobacco Massage Oil).
What we thought about it?
Well, I am always positive about products that are organic, cruelty free and natural so all these products were top on my list. I have no complains with each of it as they arrived beautifull packed and I found it so unique as it was not a common brand you find on supermarket shelves. As a busy mum of two, this also gave me the opportunity to spend some time on self care by recreating a spa like environment in my own home and in my own free time which was totally what I needed.  There were some products which I liked more then the rest, such as the Vitamin C Gift Set due to the strong lemon scent which I found so warming and calming. I also loved the Argan bath oil. Would definitely recommend these products especially to be given as a present as its packaged so wonderfully, what more I totally love suppporting local companies and this is based in our area of Staffordshire.
What's great about Stara Mydlarnia products ?
All products are:
Cruelty Free
Products not tested on Animals
Totally Natural and Eco Friendly
Organic
Hand Made
No sles, sls, als / no formaldehyde / no paraffin oils / no parabens / no ethanolamines / no peg-s / no vaseline
Free shipping for products over £60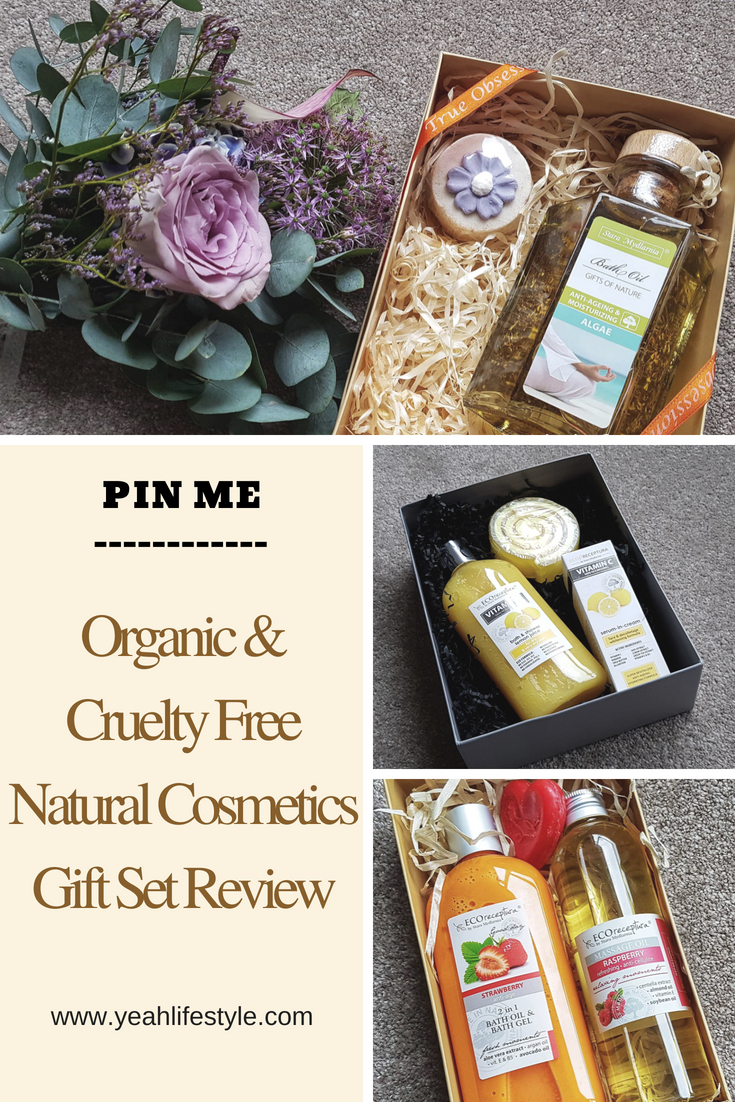 About True Obsession
True Obsession is a local company based in Newcastle-Under-Lyme in Staffordshire and they sell cruelty-free natural, organic and vegan skincare cosmetics which have such beneficial impact on skin. The products they sell are safe, smooth and environmentally-friendly. True Obsession brings together an unparalleled selection of the world's finest natural cosmetics and organic beauty products such as high-end Polish brand Stara Mydlarnia which has been around for almost 15 years.  Their customers appreciate their cosmetics because of their naturalness, active components, which have such beneficial impact on skin. They also smell beautiful and are very appetizing.  True Obsession was born of dreams, passion, and inspiration by nature, as well as the love for beauty whilst looking for pleasurable unforgettable moments in the privacy of home SPA.  True Obsession is not only about cosmetics, but about the feeling of being special, comfort and the moments of spoiling ourselves in everyday busy life. They would like everyday care to be for you the ritual of beauty.While caring about health and beautiful life they constantly pursue new ideas to even more improved recipes for cosmetics by combining tradition with modern solutions, so as to create healthy, natural products providing 100% of satisfaction and pleasure.
About Stara Mydlarnia
Stara Mydlarnia is a Polish brand that was born out of dreams, passion and inspiration from nature, as well as from the love of beauty, in the search for pleasant, unforgettable moments in the privacy of the home SPA.  Stara Mydlarnia is a company that for over a decade has been producing natural cosmetics for bathing and body, face and hair care. Their products have quickly gained recognition of customers who appreciate high quality, naturalness, efficiency and innovation connected with tradition. Currently, the offer of the Old Mydlarnia is a few hundred cosmetics for bathing and care of the body, face and hair with carefully selected ingredients, mostly of natural origin with amazing effectiveness.  Today, Stara Mydlarnia is a recognized brand in Poland and abroad, which is dynamically developing, caring for its customers. The company effectively extends the sales markets for professional cosmetics designed for beauty salons and SPA salons, offering a program of facial and body treatments. For the sake of health and beautiful life, they are constantly looking for new, own ideas for more and more perfect formulas of cosmetics.  Their clients value naturalness in our cosmetics, active ingredients that have a beneficial effect on the skin. They are safe, gentle and environmentally friendly, smell beautiful and are very appetizing. The addition of Polish herbs from organic crops, plant extracts and nourishing oils such as argan, macadamia, babassu or jojoba and shea butter or vege glycerine makes their customers eagerly reach for the everyday naturalness of the Old Mydlarnia products.
You may also want to read this:
The Pip Box Cruelty-Free & Vegan Beauty Box Review
Tri-Dosha Ayuverdic and Holistic Beauty Treatment
May Gift Guide Feature for the Whole Family
* We were sent these products by True Obsession in return for a review. All opinions are our own.